As much I love to read, I hardly ever pick up a book as often as what I would like to. I feel like I can't give up the time out of my day to just sit with a book for long periods of time. What I do have time for though is blog reading. I love reading online articles and they're short enough that I can always spare a few minutes to read one, or two, or… you get the idea.
And in case you happen to have a few spare minutes too, here are some of my favorite recent posts that I think are worth checking out. Just click on the title to view the posts.
All photos are not my own. Click on pictures for photo source.
Seven People I'd Love To Be In The Kitchen With
Who would you like to be in the kitchen with? A great question asked by Jessica! I'd love to spend some time with Ina Garten and maybe learn a hosting tip or two, but boy, would I love to have some of Paula Deen's cooking! I'll ask forgiveness from my skinny jeans afterwards. I also don't think I'd mind listening to Jamie Oliver's British accent while we made something earthy and sipped on organic wine! :-) (Don't worry, Mister E already knows about my infatuation with British accents.)
Remember how I was just gushing over my love for these blueberry muffins? I had speculated that they might be made with cornmeal, but wasn't sure how to go about making them. I think Sues at We Are Not Martha might have come up with a tasty alternative for me!
This is a great post by Tina discussing turning feelings of negative jealousy into positive inspiration. It's easy to be envious of those around us, especially when we see people in similar situations as ourselves achieving more than us. Instead of being a sad sack about it, let the jealousy motivate you to achieve your own goals!
The green monster certainly gets a bad rap from those who haven't tried it yet. If you're wondering where I got the notion to put spinach in my smoothies from, check out Angela's story of the green monster's origination. As Fall started to turn into Winter this past year, I thought the last thing I would want would be a cold smoothie. However, I've been surprised at how often I crave it. I suppose it's my body's way of telling me I need the nutrients!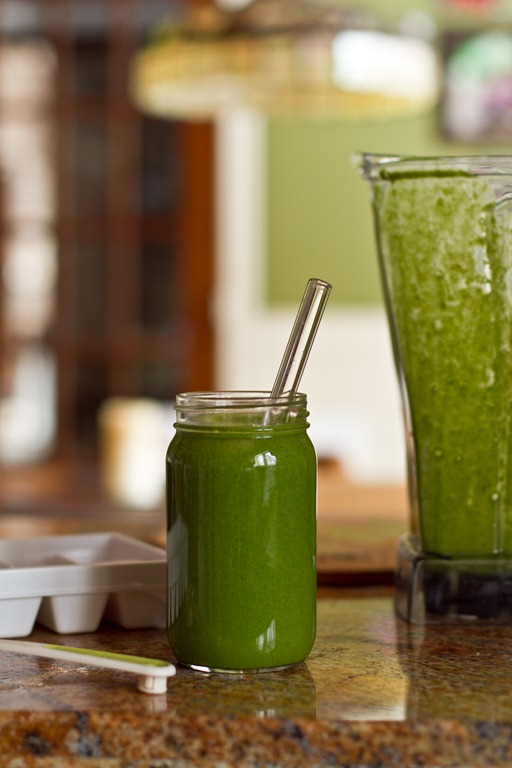 I'm so happy that Julie collected all of these wonderful mantras in one place. If you're in need of some motivation, definitely check it out! I've probably read through the list a dozen times already. Some of my favorites include, "you are just one workout away from a good mood",  "the food you eat today is the body you wear tomorrow", and "you must expect things of yourself before you can do them". I feel like climbing Mt. Everest now.
Blueberry Streusel Coffee Cake in a Jar
Can you tell that I have a slight obsession with blueberries? No? Well I do. I hate to include two blueberry posts together in the same list, but c'mon. Just look at how scrumptious these jars look! Give me a spoon, and I'll be golden! Great work Heather!
How To Build a Website Without a Design Background or Design Credentials
If you're thinking about starting a blog or a website or just looking for ways to improve one, you might want to check out this post. At Ms. Career Girl, Eric shares some really simple things to get anyone started with a great looking website. Some of his advice may seem basic, but I think people tend to overlook the basic stuff sometimes. Check it out!
Speaking of basic stuff… did you see Jenna's macaroni and cheese? Talk about a mouth-watering take on a basic dish, which so happens to now be an officially award-winning dish. Jenna, is there any chance you'll adopt me and feed me all day long? I'd also settle for working as your official taste-tester for free.
The Fundamental Ingredients of Financial Success
Trent always has great financial information to share, but I particularly enjoyed this post. I became very careless with my money during college and even more so after college once I had real bills to pay and a real paycheck to spend. It's easy to stay in denial about your money situation, especially when your debt is on credit cards and doesn't feel like real debt. Just like anything else, a change has to come from the desire to change your situation, accepting responsibility for your actions, and committing to change your habits.
Baby Elephant Alarmed by Disproportionate Head-to-Foot Ratio
Of course it's hard to pick just one favorite post from Cute Overload, but this one really made me chuckle. And now if you excuse me, I need to look into why I'm now using the word 'chuckle'.
What are some of your favorite posts or blogs that you've been reading lately?